One look at our Twitter timeline this week and one topic shone brighter than most others – those in the renewable energy sector were in meltdown at the success of solar.
One look out of my window and it wasn't hard to see what was causing all the excitement – who hasn't enjoyed at least a brief glimpse of summer these past few days with hours on end of bright sunshine?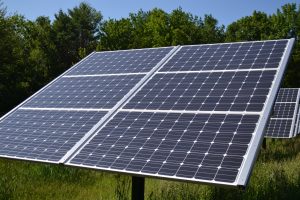 As the rays beat down, solar panels up and down the country absorbed the light and did their job producing increasing amounts of electricity for homes and businesses.
Keen National Grid watchers gave regular online updates about the effects of the heatwave on our power generation.
And they were delighted to announce that at midday on Thursday, a total of 20% of British electricity was being provided by solar power, an unprecedented level which rose again slightly on Friday lunchtime leading to 60% low carbon power production.
Over the previous seven days, the carbon intensity of GB electricity was estimated at 249 gCO2eq/kWh vs a target of 50-100g/kWh by 2030.
All this following a momentous day in April when zero coal was used in UK power generation for more than 24 hours.
So in short, great news but still a long way to go.
And, commercially, it seems that middle managers are where the stumbling block to progress lies, according to a new report.
The survey released this week by Frost & Sullivan and GlobeScan on behalf of CSR Europe, the European business network for corporate social responsibility found that a desire to contribute to the success of the United Nations Sustainable Development Goals (SDGs) finds a 'strong appetite' among company CEOs but that enthusiasm wanes at the levels of middle management and below.
"The SDGs provide not only a vision for the world but they also comprise a positive and feasible agenda for us to protect our people and our planet and secure a brighter future for this and the next generations. This is a message that businesses are beginning to internalise," the European Commission's vice-president Frans Timmermans said.
"They increasingly understand that to thrive in a new, connected and globalised world, they must play a key role in the successful implementation of the SDGs. But it is not just the hard "business case" that is convincing more and more CEO's to adapt their businesses and put them on sustainable footing. It is also a growing sense that as parents as citizens, they too want to contribute to a better world simply because it is the right thing to do."
Research shows that implementing the goals could lead to an extra $12 trillion for the global economy and generate 380 million jobs by 2030.
As a first, local step, companies can consider installing solar panels on premises roofs. And for all those who say the UK is not sunny enough to justify such measures, it is important to realise that such systems don't actually need direct sunlight to work – they can still generate some electricity on a cloudy day.
Benefits of solar electricity include reduced costs – once the initial installation has been paid for, bills are lower; you can be paid for electricity you generate by selling it back to the Grid and, of course, you enhance your green credentials by reducing your carbon footprint and not releasing further harmful greenhouse gases into the environment.
As the old saying goes, one swallow doesn't make a summer, and no, one promising week of solar electricity generation doesn't tick the box of reaching a renewable energy target, but as another famous saying goes: 'Every little helps'.
How can Syntegra Help your Business with Solar Power Enhancement?
Are you as company considering a fit-out or refurbishment? Then SKA assessment is a fantastic way  for Syntegra to identify ways to reduce your carbon emissions as well as your operational costs through the installation of PV.
Are you currently undergoing the design stage?  BREEAM sets the standard for best practice in sustainable design and has become the de facto measure used to describe a building's environmental performance.