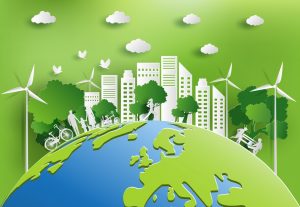 The UK Government has launched schemes to help speed up the adoption of clean technologies.
The first is a £320m Heat Networks Investment project (HNIP) offering grants and loans to businesses, hospitals, schools and local authorities with a heat network of two or more buildings.
The scheme is being operated by the Department for Business, Energy & Industrial Strategy (BEIS), which claims that switching from an individual gas boiler to a heat network system could reduce heating bills for those living in flats by 30% and could "significantly" reduce the UK's carbon emissions, if large numbers of organisations make the change.
The BEIS predicts that within the next 30 years, heat networks will meet up to 17% of the national heat demand for homes and 24% of the heat demand for industrial and public sector buildings.
"The UK has led in the decarbonisation of electricity, and [this scheme] shows we are just as committed to tackling heat," Energy Minister Claire Perry said.
"The HNIP creates a route to market for innovative energy projects across the country and demonstrates a key objective of the Clean Growth Strategy; to help deliver technologies that can lower bills, cut carbon and improve the quality of life for communities across the country."
The funding will be allocated on an application-by-application basis between now and 2021 and follows a pilot of the scheme which concluded that the projects supported by the full scheme would provide heat to approximately 5,000 domestic customers and 50 non-domestic buildings across nine heat networks, collectively delivering more than 85,000 MWh of heat annually, eliminating the equivalent of 216,324 tonnes of CO2 emissions within a 15-year period
E.ON's chief executive Michael Lewis said: 'As a country, we need to tackle the issues of heating and transport if we are to meet our environmental commitments and to make our cities and streets healthier places.
'We are ready to meet the challenges set out by the ambitions of the Clean Growth Strategy. What we need is more 'meat on the bones' and crucially new policies that clearly signal to investors that there are opportunities for investing in the future UK market. Government and industry need to work collaboratively together to help develop opportunities over the longer term to put the industry on a sustainable platform.'
The second project unveiled by the Government last week, Green GB Week, was a new £40m venture capital fund to help bring innovative clean technologies to market.
The Clean Growth Fund consists of £20m in Government funding with a further £20m to be provided by private investor and will use private sector expertise to identify clean technologies and help to commercialise them at scale.
Energy & Clean Growth Minister Claire Perry said: "Decarbonising the global economy is a multi-trillion pound opportunity. For decades the UK has been recognised as a leading financial centre and today we're primed to enhance our already world-leading green finance sector, making sure the bulk of this investment flows through the city of London.
"To mark our first ever Green GB Week, we're spending £20m to help to create a new investment fund that will provide a shot in the arm for growing UK clean technology start-ups, and creating new standards to streamline the business environment for green finance in the UK."
The Government will work with the Green Finance Taskforce to outline green investment guidelines and is due to publish the UK's first ever Green Finance Strategy in Spring 2019.
The UK Government has also announced that the UK/Canada Smart Energy Systems Challenge is now open to applications. The Challenge focuses on how electric vehicles (EVs), smart devices, storage systems and remote connectivity can become mainstream technologies on the electricity grid. The UK and Canada are jointly offering more than £11m to develop storage and grid solutions in order to support the UK Industrial Strategy Clean Growth Grand Challenge.
As part of its commitment to further develop smart systems, Innovate UK, Research Councils, and BEIS aim to invest around £265m.
The Government is also leading on a new £60m programme, UK PACT (Partnering for Accelerated Climate Transitions), to implement skillsets across the globe and harmonise green bond standards and green asset analysis with its original focus on setting up a UK/China Green Finance Centre.