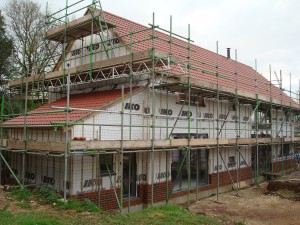 Syntegra Consulting attended on Friday 9th November the visit of the Fox Barn single family Passivhaus in Andover, Hants as part of the UK Passivhaus Open Days 2012.
A huge amount of energy is waste through inefficiency, lazy design and bad habits formed by energy being historically too cheap to worry about, but it is not true anymore. Prices of energy have increased for most of the last decade and some households spend lots of money on heating.
Town Planners, Paul and Lisa Jackson gained consent for a new house in November 2010 and following the bitter winter paying huge domestic energy bills, they decided the new house should have very low energy requirements. A key driver was that the design should be contextually appropriate to the village set within the Wessex Downs area of outstanding natural beauty. The structural envelope is a 300mm (and 360mm for the roof) timber 'I' beams with Warmcel insulation and triple glazed windows. The heating and hot water is provided by a log boiler and a solar thermal installation connected to a thermal store with an electric immersion heater installed if the hot water is needed quickly. Mechanical heat recovery ventilation has been installed in the loft and a solar PV system (4kW) on the garage.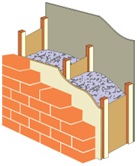 Formally the principle of Passivhaus is defined as the total energy demand for space heating and cooling is less than 15kWh/m2/yr of treated floor area, a standard house uses around 110kWh/m2/yr. The principles minimises heat loss in these main ways:
excellent levels of insulation
minimal cold bridging in the external frame
excellent levels of air tightness
controlled internal air quality
clever design of solar gain
use of low energy household appliances and lighting
Using Passivhaus building principles can help to reduce energy loss by 90% thus instantly reducing CO2 emissions and heating costs. The remaining 10% can be provided by a low carbon solution such as air source heat pump, log boiler, solar thermal. At Syntegra Consulting we can suggest solutions and products which are efficient, practical and cost effective. Our Energy consultants are experienced with specialist areas of expertise.