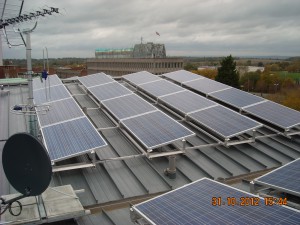 Syntegra Consulting attended a workshop from Ikaros Solar in understanding how a well designed PV system can help to offset large utility bills and also be a very sound long term financial investment. This workshop was particularly relevant because after months of indecision and misinformation, the solar PV industry is starting to get back on its feet again. The government is implementing mandatory energy schemes such as the Carbon Reduction Commitment Energy Efficiency Scheme (CRC). This is aimed at improving energy efficiency and cutting emissions in large public and private sector organisations.
The seminar covered the following:
How PV works
How the financial returns are calculated
How to specify a highly effective installation
Type of install – roof /ground
Specifying the key components of a PV system
Monitoring systems
Carbon saving calculations
Understanding the installation process
Warranties and guarantees
At Syntegra Consulting we are able to undertake PV and Solar Thermal design and Energy consultancy commissions throughout the UK & Europe.