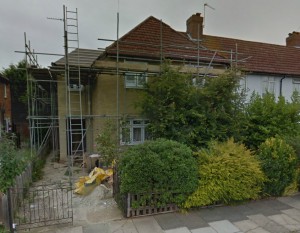 Syntegra Consulting Ltd has been appointed as energy consultants to produce an energy strategy for the scheme at 63 Prospect Crescent, Whitton, Twickenham, Greater London, – to support the scheme design process, demonstrate Building regulations Part L1B compliance, to demonstrate consideration to achieve a 20% CO2 emission reduction against the CIBSE standard case model & existing building configuration via renewable technology (if possible or intent to enhance), along with intent to deliver a minimum BREEAM 'domestic' refurbishment –'Excellent' rated dwelling.
The existing property is a 2 storey semi-detached, end terrace house. The proposed development will entail conversion of the exiting property from a single house to two single storey bedroom residential flats.
The recommended design has incorporated building fabric enhancement (to comply with building regs Part L1B requirements) to increase the energy efficiency of the building. This solution will show an overall 75.97% CO2 reduction saving against the existing property specification (BRUKL-1B compliance) which demonstrates the required 25% CO2 reduction required in the local authority planning policy.
Syntegra Consulting Ltd is a leading international Building services design & Energy Consultancy. We are at the forefront of Energy Performance Certification and Low Carbon Building Design in the UK, Europe & Internationally, with experienced consultants certified to undertake full BREEAM assessments.