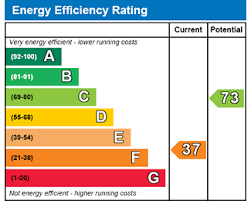 Landlords need to act now to avoid costly penalties and protect their assets as important legal changes are introduced to energy regulations.
From April 1st next year (2018), commercial and domestic landlords must have implemented Energy efficiency measures to improve the existing Energy Performance Certificate (EPC) value of their properties in order to obtain new lease or renew a lease. Gradings F/G will mean improvements have to be made to the energy efficiency of the building before it can be re-let or the lease renewed.
EPCs, which show how energy efficient a building is in terms of gas, insulation, lighting and glazing, were introduced in 2008 and have a validity of ten years so many will expire next year.
The Minimum Energy Efficiency Standard (MEES) was introduced in March 2015 by the Energy Efficiency (Private Rented Property) (England and Wales) Regulations 2015 and state that from 1 April 2018, landlords of buildings covered by the rules cannot renew existing tenancies or grant new tenancies if the building has less than the minimum EPC rating of E.
Properties covered by the Regulations are those which have tenancies of more than six months and less than 99 years.
Domestic landlords have until 2020 and commercial landlords until 2023 to make the improvement under existing leases. After those dates, the Regulations will be enforceable on all leases.
However, from 2018, landlords/tenants will be locked into existing lease arrangements until such time as any required improvements are completed – including the amount of rent payable.
Failure to make the improvements within the timescales, enforced by Trading Standards Officers, will be punished by fines of up to £150,000.
Suggested improvements which would devalue the rental value of the property or would not bring about payback on the investment within seven years are exempt.
With just a few months to go until the April deadline, it makes financial sense to carry out any necessary work on properties sooner rather than later to maximise the chances of a longer lease, and thus more rental income.
Even if buildings received a rating of E for their original EPC, it is advisable to have a 'health check' on a building prior to applying for the renewal as rules governing the certificates are tougher than before and elements previously overlooked, such as whether windows were double or single glazed or the style of light fittings, are now much more closely scrutinised in grading the overall energy efficiency.
Syntegra is happy to help landlords find their way through the new Regulations and recommend cost-effective efficiency improvements designed to ensure the maximum return on investment.
We will conduct an initial feasibility study or MoT of a property to see if its current EPC rating is valid according to new standards.
If the property scores E or below, we will then make recommendations in relation to areas such as improved wall or roof insulation, glazing, light fittings, thermostatic controlled radiators and energy efficient boilers.
Landlords are recommended to take advantage of breaks between lease periods or use their routine programme of maintenance to properties to make any necessary changes.
Syntegra is also licensed to conduct your full EPC check and grant certificates in accordance with the new rules once suggested improvements have been made.
The built environment is a major contributor to Greenhouse Gas emissions and threatens to derail the UK from meeting its carbon reduction targets for 2020 and 2050. The Government estimates that 18% of commercial properties currently hold EPC ratings of F or G and while revised Building Regulations ensure that new properties meet energy efficiency standards, MEES will tackle older buildings.