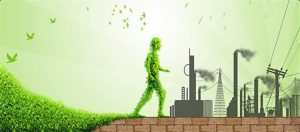 They say a week's a long time in politics so three weeks must be a lifetime.
That's how long has passed since the announcement of the Government's flagship 25-year environment strategy document Cleaner, Green Britain.
Grabbing a few headlines that day and under the spotlight by some campaigners the next, the extension of the 5p plastic bag tax was the highlight for many, alongside the Prime Minister's overarching – and possibly over ambitious – plan to eradicate all 'avoidable plastic' waste in the UK by 2042.
But in the mainstream media, you'd be hard-pressed to find further references or follow-ups to the strategy unveiling.
Flu and Davos seem to have taken over in the news (regrettably and understandably, in that order) and the environmental issues have slipped back down the news agenda again.
Indeed, there was barely even any mention of the Ellen MacArthur Foundation's $2m New Plastics Economy Innovation Prize winners announced at the Swiss economic summit with Mr Trump and Mrs May's on-off relationship considered more likely to win the media ratings wars.
Closer to home, we clearly kept a watchful eye on the Edie sustainability leadership awards, keen to support businesses in their green goals, yet apart from a flurry of Twitter activity, little was reported on this newsworthy event in the sustainability calendar.
And only passing mention was made of the big business names (because they're big names, not because of the merit of their actions, one suspects) and their plastic initiatives at the Davos economic get together of world leaders.
It is precisely for this lack of ongoing support for the sustainability agenda that we will keep writing articles like this to act as a consistent reminder that the environment DOES matter and we want people to care about it as passionately as we do – and realise there is a lot going on to offer it some protection but a whole lot more we could all be doing, individually and collectively, at home and work, and we cannot afford, financially or metaphorically, to keep letting it disappear off the news radar.
We are all well-connected online now so let's at least share details of green initiatives with our own networks of friends and colleagues, post questions on the Government's strategy, hold them to account on their pledges – don't let them take the easy route of putting it in the 'too difficult' tray any more.
Unfortunately, the flu epidemic and ensuing chaos in our hospitals was entirely predictable. So too is the damage that will continue to be inflicted on the planet if we don't all stop, take stock and make a firm commitment to make a difference.
We don't need to wait until 2042 to take action once we've seen how far the Government's strategy gets us.
To quote another popular truism – there's no time like the present.