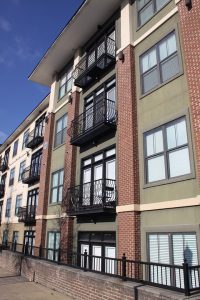 Landlords face the prospect of paying for measures to improve their properties' energy efficiency under a new government proposal.
Minimum standards meaning properties can only be let if they reach a band E or above in the EPC ratings will come into effect in April.
Previously landlords had been expected to rely on finance from the Green Deal or ECO funding to pay for any remedial work required to bring their houses in line with the higher energy efficiency grades.
But a new government consultation paper, issued earlier this month by the Business, Energy and Industrial Strategy (BEIS) department proposed landlords should pay up to a maximum of £2,500 to bring their properties up to Energy Performance Certificate Band E.
Under the existing "no cost to landlord" principle, landlords were expected to meet Band E or above using available third party funding, such as the Green Deal or ECO funding.
But the Green Deal has been scrapped and the BEIS consultation paper states the ECO scheme is not generous enough to bring the outstanding stock of private rented homes (an estimated 280,000 homes) up to scratch.
The consultation paper said: "As a result of these shifts in the funding landscape, it is highly likely that many landlords of F and G rated rental homes will be unable to deliver improvements in line with the current regulatory requirements. This would be to the continued detriment of their tenants."
The paper proposes scrapping the "no cost to landlord" rule and it outlines the costs of upgrading the properties should be capped at £2,500 per property.
If a landlord is able to secure funding for works via schemes like ECO, the paper says the cap on costs of works should not exceed £2,500.
According to the BEIS analysis, the average cost of improving an F or G rated domestic PRS property to EPC Band E is likely to be £865 – well below the cap.
Dr Joanne Wade, chief executive of the Association for the Conservation of Energy, said: '"We believe the proposed cost cap £2,500 is too low.  The alternative of a £5,000 cap would double the average energy bill savings for tenants and enable 35,000 more homes to be brought up to the minimum standard.
"We simply do not understand why third party funding contributions such as ECO or Green Deal Finance, should be included in the cap: the cap is intended to ensure that landlords are not unduly burdened and hence financial contributions from other sources should be additional to this and therefore deliver additional energy savings by enabling more homes to be brought up to the minimum standard."
Syntegra consultants are more than happy to advise landlords on the most effective cost-effective measures they can introduce to comply with grade E or above on the EPC report. Get in touch today to discuss your situation.