While recent national headlines have, rightly, been dominated by the unexpected (but very welcome) England World Cup journey, a couple of major announcements have gone somewhat under the radar when it comes to energy efficiency in the built environment.
First came the news that the Government was launching a £420 million construction sector deal aimed at halving the energy use of new buildings by 2030.
A total of £170m of Government funding will go to supporting innovations improving energy efficiency and cutting greenhouse gas emissions across the industry while reducing construction times by up to 50%. That figure is expected to be boosted by £250m from private sector funding.
Just a few days later, London Mayor Sadiq Khan, launched a £500m fund to help SMEs, universities and public-sector organisations across the capital install energy efficiency measures in their buildings as part of his bid for London to become a "zero-carbon" city by 2050.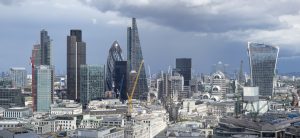 The Mayor's Energy Efficiency Fund (MEEF) will be used to improve existing low-carbon infrastructure at locations including hospitals, museums, offices, libraries, social housing and universities, or to invest in new low-carbon technologies.
Technologies eligible to receive a share of the funding include battery storage facilities, electric vehicle (EV) charging infrastructure and low-carbon data centres.
In his announcement, Khan said that the MEEF, which has received financial backing from several big-name banks, is "a great example" of how the public and private sectors can come together to reduce London's carbon emissions.
Innovations to drive smart construction include offsite modular manufacturing techniques, AI-assisted digital design tools, new manufacturing technologies and smart building management systems.
Following the announcement, Business Secretary Greg Clark said investment in smart construction would deliver significant environmental and economic benefits. "The construction industry is fundamental to growing our economy as we build to invest in our future," he said. "Major infrastructure projects like HS2 and the commitment to deliver 1.5 million homes by 2022 mean that we need a construction sector that can drive innovation, delivering homes and infrastructure quicker.
"As buildings account for around 30% of total emissions, we also want to ensure that we are at the global forefront in designing and building smart, energy efficient and affordable homes and buildings through the Clean Growth Grand Challenge, saving families money on their bills."
The deal also targets the 120 million tonnes of waste produced in the building sector each year, which accounts for 60% of the UKs current annual waste output.
The launch of the Mayor's scheme follows on from his £112m London Energy Efficiency Fund (LEEF) programme, which generated £350m for projects across the capital before it closed to applications in 2016.
One of the largest projects to have been allocated funding through the LEEF programme was a new power and heating system for the St. George's University Hospitals NHS Foundation Trust, which works by storing and recycling the heat produced by electricity generation. The installation, which was completed earlier this year, is set to save the Trust £1m a year on energy bills and reduce its annual carbon emissions by more than 6,000 tonnes.
The launch of the MEEF follows a recent Green Finance Taskforce report which concluded that while the majority of public-sector organisations and small businesses want to install energy-efficiency measures to meet the Clean Growth Strategy's aim of improving efficiency by 20% by 2025, they often can't access the necessary finance.
Both new funding announcements are to be welcomed and show that the authorities appear to be taking the issue of the built environment seriously when it comes to reducing our carbon footprint.
However, significant numbers of green business and campaign groups are currently calling on the Government to set more ambitious energy efficiency policies after the Committee on Climate Change's recently published annual report indicated that the built environment sector was hindering the UK's ability to meet its 2030 carbon targets – reports echoed by new IPPR research which suggested the UK will not meet its 2030 goals to boost energy efficiency in its housing stock until the end of the century.
The UK Green Building Council (UKGBC) chief executive, Julie Hirigoyen, said: "We welcome the long-awaited Construction Sector Deal as an opportunity to transform the capabilities of the industry and deliver more sustainable places.
"It is encouraging that the target to halve emissions from the built environment sits at the heart of the sector deal; but targets and aspirations will only get us so far and it is vital that these low-carbon objectives are swiftly integrated into the wider policy framework for building regulations and energy efficiency."
Well said, Julie! These initiatives are a great start and we hope they prove to be a springboard for further investment and attention being paid to this critical area which, if addressed appropriately, will make a massive difference to our efforts to put the brakes on climate change.
Gareth Southgate has rightly been praised for his leadership qualities as he led his England team through their World Cup campaign – determined, positive and with a measured yet unwavering desire to succeed. And even when they forged their way into the history books, his drive and passion to do even better was clear for all to see.
I hope our industry takes note. We have done – and continue to do – a lot to improve the built environment in recent years. There's a lot more to come from this sector. Let's go out and prove we're up for the challenge and win the battle.