The first rise in Co2 emissions for four years has been recorded by UN scientists who announced their findings on the eve of a follow-up to the Paris Agreement on Climate Change.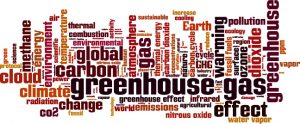 To meet the goals of the Paris deal, global emissions need to peak by 2020. But the UN emissions gap report suggests that won't happen before 2030.
Emissions in 2017 rose by 1.2% as international efforts are focused on preventing global temperatures from rising by more than 1.5C.
According to the UN, to keep the world below that target, global greenhouse gas emissions in 2030 would have to be 55% lower than today and scientists say that to tackle the gap, nations must raise their ambition five fold to meet the 1.5C goal.
The world is currently heading for a temperature rise of 3.2C by the end of this century the report says.
For the last nine years, UN Environment have produced an assessment of the latest scientific studies on current and future emissions of greenhouse gases.
It highlights the difference between the level of greenhouse gas emissions that the world can sustain to keep temperatures within safe limits, with the levels that are likely based on the promises and actions taken by countries.
This year's report records the largest gap yet between where we are and where we need to be and was published as international leaders and climate experts gathered in Katowice, Poland, for the COP24 meeting.
Thousands of delegates from almost 200 countries gathered in the coal-stronghold city for talks on tackling climate change issues and updating the group on progress following the 2015 Paris pact to move away from fossil fuels.
"This is a very, very important conference," U.N. climate chief Patricia Espinosa told reporters. "It also takes place in a scenario where we have clear signals about the urgency with which we need to address the issues of climate change."
Four former presidents of U.N. talks, including Laurent Fabius of France, who led negotiations for the Paris agreement, issued a statement urging "decisive action".
"The world is at a crossroads and decisive action in the next two years will be crucial to tackle these urgent threats," they said in the joint statement.
The UN is placing great hopes on local governments, businesses and higher education institutions to take further decisive steps to tackle climate change.
Its study says that there is the potential to cut emissions from this sector by 19 gigatonnes of CO2 equivalent per year by 2030 – that's enough to keep the world on a 2 degree path.
And it indicates that government tax plans could play a key role in determining whether or not carbon reduction targets are met.
It says that carbon taxes or carbon trading systems cover only 15% of the global carbon output and half of the emissions from fossil fuels are not taxed at all, with only 10% priced at a level consistent with keeping warming to 2C.
'When governments embrace fiscal policy measures to subsidise low-emission alternatives and tax fossil fuels, they can stimulate the right investments in the energy sector and significantly reduce carbon emissions, said Jian Liu, UN Environment's chief scientist.
'If all fossil fuel subsidies were phased out, global carbon emissions could be reduced by up to 10% by 2030. Setting the right carbon price is also essential. At $70 per tonne of CO2, emission reductions of up to 40% are possible in some countries.'
Umer Uzair, Syntegra's Director of Energy & Sustainability, said the UK Government should push for more energy efficiencies within the built environment.
He said: 'We recommend that Government should review the energy savings/reduction policies within existing building stocks and businesses and take necessary steps towards reducing the energy demands and energy generation. We also believe that the London plan is currently moving towards the correct direction of zero carbon development however the building regulations should also consider the overall energy and carbon reductions within the built environment.'
At Syntegra group we have a dynamic team of engineers who can assist with any energy and carbon needs of your business and our sustainability team is focusing on Global Goal 7 helping clients to increase the potential of renewable energy within the building industry.
* In 2015, world leaders agreed to 17 goals for a better world by 2030. https://www.globalgoals.org/ These goals have the power to end poverty, fight inequality and stop climate change. Guided by the goals, it is now up to all of us, governments, businesses, civil society and the general public to work together to build a better future for everyone. Syntegra's work is underpinned by many of the goals.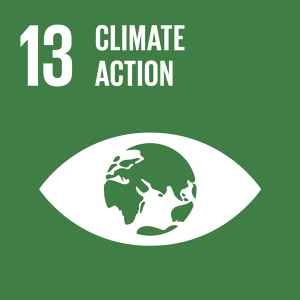 Goal 13 states: Climate change is a real and undeniable threat to our entire civilization.
The effects are already visible and will be catastrophic unless we act now. Through education, innovation and adherence to our climate commitments, we can make the necessary changes to protect the planet. These changes also provide huge opportunities to modernize our infrastructure which will create new jobs and promote greater prosperity across the globe.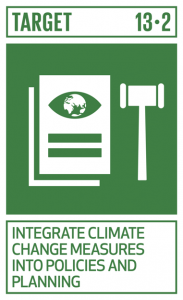 13.2: Integrate climate change measures into national policies, strategies and planning.