It's that time of year when we've all got one eye on the weather app or out of the window to check for snow and the chance of a snow-day remote working from home.
But should businesses capitalise on people's enthusiasm for remote working and actively encourage it – not just rely on goodwill when the white stuff falls – in a bid to boost their green credentials as carbon, energy and waste footprints can all benefit from fewer people travelling to their workplace rather than just logging in from their living room?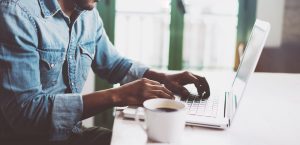 More than 13% of the UK's working population now enjoy elements of remote working either full or part-time, according to the Office for National Statistics and it's actually proving to be a sustainable option for many businesses.
Transport is now the most carbon-intensive sector in the UK with more than 90% of the average worker's carbon footprint down to their commute from home to the workplace and with electric vehicles and low-carbon fuel alternatives in the aviation and freight industries slow to be adopted, it's easy to see how a stay-at-home workforce saves instant emissions.
Global printing and imaging firm Xerox, now has 8,000 employees working on its virtual workforce programme and estimates its introduction has saved 4.6 million tonnes of petrol and diesel since 2014.
Dell has recorded a 6,700-tonne reduction in its carbon footprint since launching a 'telecommuting' scheme in 2014 which provides staff with conference/video calling software to conduct most meetings remotely. It hopes 50,000 employees will be enrolled by 2020 to achieve its goal of 40% direct emissions reduction.
People are more likely to exhibit environmentally-friendly behaviours regarding light and heating use in their own homes as they are the bill-payers. Their domestic energy use will undoubtedly increase during periods of remote working, but the savings related to closing an office for a day far outweigh the disadvantages to the planet due to the comparable size and range of equipment likely to be used in a workplace setting.
A recent study by the US Energy Information Administration found that 19 million barrels of oil are used to generate electricity for workplaces every day and that if every US worker that was able to work remotely part-time did so, 1.75 million of these barrels could be saved.
Employees are notoriously slack about recycling habits at work and tend to favour the general rubbish bin for their waste and isn't it the throwaway routine of buying a coffee on the way to work in a disposable cup that has brought the issue of single-use plastic to the fore?
People working from home are more likely to make their own meals than rely on takeaway food, hot drinks will probably be served in durable cups and who really wants to print out materials on an expensive home printer when it's more convenient to use the office machine next time you're in?
If you're a business owner reading this, don't wait for the next flurry to send you into a tailspin about productivity and lost revenue – think of it as a potential opportunity to boost other aspects of your organisation's impact and maybe, just maybe, consider the longer term benefits of formalising such work-from-home days. You'll love the bottom line results and the staff will appreciate the trust you place in them – and possibly even a lie-in to make them even more productive when they're on-task.