Clients have been warned to consider ecology in the initial stages of their planning proposals after a huge fine was imposed on a development company for the illegal destruction of a building where protected bats were known to roost.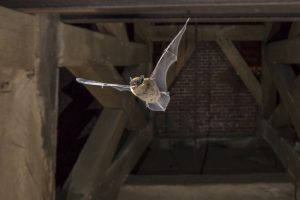 Landrose Developments was fined £18,820 at Brent Magistrates' Court after pleading guilty to destroying the breeding site / resting place of a European Protected Species (EPS), namely Pipistrelle Bat
The court heard how the company was involved in the demolition / re-development of a detached bungalow in Stanmore in October 2016.
In 2011, plans were submitted to demolish and redevelop the property. A subsequent ecological survey of the premises revealed the presence of Pipistrelle bats within the property.
The presence of the bats meant that the building could not be demolished without a European Protected Species License and appropriate mitigation in place. The Council imposed a condition stipulating that ecological features should be maintained within the premises.
It was raised to the owner of the property that demolition without an EPSL or appropriate mitigation would destroy a roost and constitute an offence under the Conservation of Species and Habitat Regulations.
Yet despite being aware of the existence of two bats at the location, the property was demolished, under the authority of Landrose Developments, in October 2016 without any measures in place to protect the bats.
Police were alerted to the demolition of the property in July 2017 and an investigation commenced by the Met's Wildlife Crime Unit and Harrow's designated Wildlife Crime Officer.
The development company was charged with destroying a bat roost on 12 September 2018 after attending a voluntary interview at Colindale Police Station.
DC Garry Redshaw, who led the investigation, said: "All 18 UK species of bats are European Protected Species (EPS) and are protected under the Conservation of Species and Habitats Regulations. This makes it an offence to capture, injure, kill or disturb an EPS or destroy their breeding site or resting place.
"The development company was clearly aware of the bats existence but proceeded to destroy their resting place anyway."
DC Sarah Bailey from the Met's Wildlife Crime Unit added: "Although this is only the second ever Met case of its kind, sadly bat roosts are destroyed every year and go unreported to police. I would urge anyone who is aware of this criminality taking place, to report it to police."
Syntegra's Director of Ecology Services, Trish Holden, said: 'Developers should always have a preliminary ecological appraisal and/or roost assessment on buildings, as this can ensure the avoidance of costly delays and the surveys will help to inform the mitigation measures and then, if necessary, seek further surveys to inform the EPS licence.'