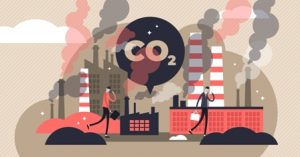 The UK Government has unveiled new measures to decarbonise buildings and all modes of transport to demonstrate commitment to reaching  net-zero carbon by 2050.
The report indicates that the UK Government has allocated £2bn to decarbonisation projects since the amendment to the 2008 Climate Change Act was ratified, with significant amounts of funding being allocated across the fields of hydrogen, carbon capture and green finance.
On the built environment, which accounts for 40% of national energy use and around one-third of emissions, the response paper includes a proposal for all rented commercial building to be required to operate at a minimum energy efficiency standard of EPC band B by 2030. The Government claims this measure alone could save businesses £1bn per year in energy bills.
A consultation on the introduction of mandatory "in-use" energy performance ratings for all business buildings will also take place next year, along with the publication of a review by the National Infrastructure Commission (NIC) on climate adaptation in the built environment sector.
In relation to the UK's most emitting sector, transport, the response confirms that the Government will develop a plan to decarbonise "every single mode of transport". It states that the Department for Transport (DfT) will "immediately" begin the groundwork for the plan ahead of its publication next year – work which will involve widespread collaboration with local authorities, businesses and trade bodies.
A crucial facet of the plan, the response paper states, will be an analysis of how new technologies can change the ways in which people and goods are transported. Tele-conferencing, for example, could replace many business trips, and cities could be redesigned in ways which incentivise cycling and walking over car ownership, the report says.
"We want to work with industry and communities around the country to develop this plan – to make our towns and cities better places to live, help to create new jobs, improve air quality and our health, and take urgent action on climate change," Transport Secretary Grant Shapps said.
Other key facets of the Committee on Climate Change's initial recommendations were tech-based, emerging solutions including energy storage and carbon capture, usage and storage (CCS). The organisation has continually stated that the adoption of both of these technologies, as well as hydrogen, will be a "necessity" in meeting net-zero.
The Department for Business, Energy and Industrial Strategy (BEIS), has now launched a consultation on proposals to make it easier for large-scale energy storage projects to gain planning permission. The eight-week consultation will assess the feasibility of removing large scale storage from the Nationally Significant Infrastructure Projects (NSIP) regime in England and Wales, leaving local authority planning departments in charge of scrutinising and approving projects.
A further CCC suggestion is the rewilding of 20,000 hectares of land annually between 2020 and 2050.
In response, the Government it is set to create or restore 500,000 hectares of habitat in England through its Nature Recovery Network. It has also said it is still developing the Strategy for Nature as part of its 25 Year Environment Plan and would now like the CCC to give advice as part of the Strategy's development.
Reacting to the Government's net-zero report response, the Renewable Energy Association's chief executive Nina Skorupska said: "The CCC was right to highlight the inefficiency of the current disjointed approach; achieving our legally binding carbon targets cannot and should not be the sole responsibility of a handful of departments across the Government.
"Responsibility and accountability for implementing the policies and infrastructure urgently needed to address the climate emergency must sit at the top, with No 10 and the Cabinet Office. The Government must treat this as an emergency and must oversee the delivery."
The Solar Trade Association's chief executive Chris Hewett said: "We are pleased to see that the government has taken our feedback on energy storage on board. This is a promising step forward for enabling energy storage to be connected more swiftly and giving local communities a stronger voice in determining which developments are right for them. Energy storage is safe, low-impact, and essential for delivering on the UK's legally binding net-zero commitments."
A Transport & Environment spokesperson said: "The decision to move to net-zero emissions by 2050 requires the DfT to take radical steps to decarbonise, yet today's statement includes no clear commitments to do anything new. The DfT should have announced that it intends to ensure no more cars with engines are sold after 2030 and that it will work with cities to actively discourage the use of cars for all unnecessary short trips.
"Also, the Treasury must end the freeze on fuel duty and introduce taxes on aviation fuel in the forthcoming budget to show it is serious about tackling the climate emergency."
The UK Green Buildings Council's chief executive Julie Hirigoyen said: "Today's announcement is most encouraging, as we have long called for more ambitious policies to improve the energy performance of our commercial buildings. It is also a welcome complement to the Government's recently announced plans to strengthen energy efficiency standards for new homes – and shows that they are finally understanding the importance of tackling buildings emissions as we strive to meet our climate targets.
"By signalling a long-term Band B target for rented commercial buildings, the Government is providing welcome certainty, which will help underpin businesses' energy improvement plans and the supporting investment decisions. As the market has already shown, minimum standards for rented buildings can have a transformative effect on their performance.
"We are also pleased to see the Government, at last, acknowledging the importance of mandatory operational energy ratings for commercial buildings."