With all major construction work on hold until the COVID-19 pandemic passes, developers will be looking for some quick wins once lockdowns are lifted.
And with the renewed focus this enforced break is having on the environment, sustainable solutions are set to take centre stage.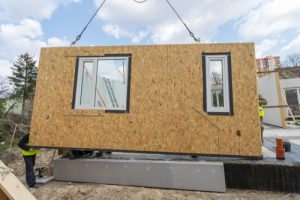 Modular builds tick both boxes of speed and sustainability and could see a growth in popularity once construction work gets the green light to continue.
Prefabricated in offsite construction, modular builds are made from durable materials to produce an eco-friendly structure, suitable for projects such as additional school classrooms, healthcare centres and sports facilities.
With a quicker turnaround than traditional construction, and little if any disruption to the proposed site, modular builds are ideal for public sector clients who struggle to close down for the duration of renovation or extension work.
Typically they offer high levels of energy performance due to the construction materials and can have solar panels, for examples, integrated into the model at its initial stage.
Lower costs for labour and equipment due to the faster completion rates mean a modular build can be finalised for as much as 60% less than a conventional building.
Syntegra MD Alan King commented: 'Modular builds offer a viable solution for a broad range of developments.
'Their popularity has been increasing recently and I believe the array of sustainable features means we will see a lot more of them in the coming years as people try to reduce their carbon footprint and the built environment steps up to environmental challenges.'