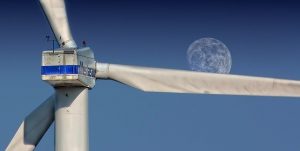 As much as 65% of the UK's energy demand could be met by renewable generation within a decade, according to the National Infrastructure Commission – a significant reassessment from its most recent forecast of 50% but a modest appraisal by industry insiders.
In its latest report, 'Renewables, recovery and Reaching Net Zero,' said there is 'no material cost impact, either over the short or long term', of deploying renewables at a faster rate, in line with the country's net-zero target of reducing net emissions by 80% by 2050.
By 2050, electricity generation should stand at a minimum of 465 TWh, compared to 345TWh in 2019, accounting for the electrification of sectors such as heat and transport, as well as population growth and digitisation.
The report models a variety of scenarios in which the 65% quota is met by 2050, concluding that between 86GW and 99GW of generation must be deployed by the end of 2030 – including a minimum of 40GW of offshore wind.
Offshore wind should be complemented with large-scale solar and energy storage, the report recommends, to account for varied generation patterns. It does not take biomass into account, nor nuclear, and recommends that the Government approves a maximum of one new nuclear plant, other than Hinkley C, before 2025.
The report lists a series of recommendations which would speed up the rate of transition to a low-carbon energy system and notes that 'historical peak rates of deployment for each technology are near or above what is now needed in each year to 2030'.
Crucially, the Commission recommends that the timelines and budgets for future contracts for difference (CfD) auctions are announced further in advance in the future, to secure investor certainty and help the supply chain to prepare. Earlier this year. pre-lockdown, the Government reversed its decision to effectively ban onshore wind, solar and energy storage from competing in the CfD in light of the net-zero target.
Commission chair Sir John Armitt said that the National Infrastructure Strategy – due for publication in Autumn following delays relating to Brexit, net-zero and Covid-19 – 'needs to include a long-term policy on future energy that… helps deliver the green recovery we all want to see.'
In response to the Commission's report, RenewableUK's head of policy and regulation Rebecca Williams said: 'The NIC is right to raise its ambition on renewables but we can go even further and even faster. Wind alone can generate more than 50% of the UK's electricity by 2030, so their new 65% target for renewables overall could go even higher.
'We welcome the NIC's call for annual auctions for contracts to generate renewable power, but the most important step that Government could take would be to lift the cap on the amount of new renewable energy capacity we can procure in each auction. This would allow us to maximise the benefits of cheap renewable power for consumers, cutting bills.
'The NIC is also urging the Government to remove barriers to growth – this has to include a new visionary cross-departmental plan for Ministries to work more closely together, to put the goal of net-zero emissions at the heart of everything they do when formulating new policies. We also need to see better resourcing for bodies like nature conservation organisations which are involved in the planning process, so that they're properly resourced to make the right decisions more swiftly".