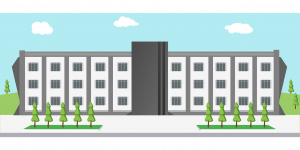 More than a quarter of the UK's schools, nurseries and colleges are in areas with  'dangerously high' levels of air pollution, new research reveals.
A total of 8,549 educational establishments – 27% – are located in areas where annual fine particulate matter (PM2.5) levels are higher than World Health Organization (WHO) guidelines.
Asthma UK and the British Lung Foundation – who jointly commissioned the work – said they want to see the Government commit to new stronger and safer legal limits for PM2.5 in line with WHO guidance.
Every year in the UK, it's estimated that up to 36,000 early deaths are linked to breathing polluted air.
Exposure to poor air quality can harm normal growth of lung function in the womb, during childhood and into teenage years.
Children are at risk of long-term lung damage, when exposed to pollutants both at school and as they travel to and from school.
Children are especially vulnerable to poor air quality because:
• their airways are smaller and still developing
• they breathe more rapidly than adults
If a child breathes high levels of air pollution over a long period, they might be at increased risk of:
• their lungs not working as well when they're older
• developing asthma during childhood or as an adult – if they have asthma already, poor air quality can make it worse
• wheezing
• coughs
• lung cancer, heart disease and diabetes when they're older
• infections like pneumonia
Harriet Edwards, senior policy and project manager for air quality at Asthma UK and the British Lung Foundation, said: 'It's alarming that thousands of children are going into schools where dangerously high air pollution levels could be putting their health and futures at risk.'
'There are no safe levels for air pollution, we need to get levels as low as possible and it's vital the Government commits to ambitious new targets in line with the best available science from the WHO.'
'Covid-19 has reinforced more than ever the importance of healthy lungs and it's our responsibility to ensure the next generation has clean air to breathe.'
Dr Andy Whittamore, clinical lead at Asthma UK and the British Lung Foundation, said: 'With 1.1 million children (1 in 11) in the UK receiving treatment for asthma, it is high time we began prioritising the lung health of our young people.'
'There is strong evidence that air pollution can stunt the growth of children's lungs and emerging evidence that it is linked to the development of asthma in children.'
'Exposure to air pollution is dangerous for everyone but for people with lung conditions, it can cause a flare-up of their symptoms. Over half of people with asthma tell us poor air quality makes their condition worse, which puts them at higher risk of an asthma attack.'Syntegra can support schools and education establishments throughout their project life-cycle; working alongside architects, developers and local school boards.
We can advise on design proposals at the pre-planning stage and evaluate local risks of exposure to poor air quality.
Site layout optimisation can be supported by modelling of the potential for exposure to air pollutants and improvements to air ventilation and filtration systems can be supported by the monitor outdoor and indoor pollution concentrations.
These services can inform the development of Air Quality Action Plans which consider the local issues and help identify pollution control measures that can be adopted to minimise public exposure, such as managing periods for school-breaks/lunchtimes and outdoor play according to times of the day and seasonal pollution events.