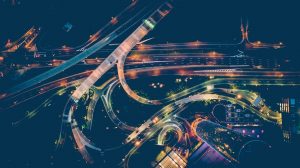 A lack of legislative requirements on key sectors and infrastructure are putting the UK's net-zero target at risk, a green thinktank has warned, highlighting an £11.4bn investment shortfall in reaching net-zero across transport, buildings, circular economy and natural infrastructure.
The Green Alliance argues that a net-zero aligned approach to infrastructure would help the nation deliver an economic recovery from the coronavirus pandemic.
But in a new report, it warns that significant shortfalls in the Government's approach to infrastructure policy is placing the net-zero target at risk – just as prime Minister Boris Johnson unveiled his 10-point green recovery plan.
The report claims a lack of "net-zero testing" applied to all government decisions will continue to promote carbon-heavy economic activity and estimates the gap in investment required to meet net-zero will grow to £13.5bn annually by 2022.
The Green Alliance's head of climate policy Caterina Brandmayr said: 'Infrastructure is the backbone of our economy and society. Decisions taken now will govern all of our choices for decades to come and determine how green our society can be.
'This isn't a "nice to have", it will generate much needed new jobs in the short term and prove to be essential in building a more prosperous UK economy which is resilient to future crises over the long term.'
The Government was meant to publish the long-awaited 30-year National Infrastructure Strategy (NIS) alongside the Budget in March, but it was delayed to give Chancellor Rishi Sunak more time with the strategy. It was then scheduled for publication this Autumn, with the delay set to allow for changes to ensure that funding is appropriate for the UK's 2050 net-zero target.
While Prime Minister Boris Johnson announced his 10-point plan aligned to net-zero this week, the Green Alliance warns that the introduction date for some policy schemes is also putting the net-zero target at risk.
The £12bn investment into affordable homes between 2021 and 2026, for example, is at risk of breaching net-zero requirements, the report argues. The Future Homes Standard is set to be introduced by 2025 meaning 'the majority of these homes will not meet it, leading to higher than necessary energy bills and incurring future costs to address poor energy performance', the report argues.
The programme is billed as costing £12bn, with Downing Street saying £8bn of this is new. However, Labour said it believed only £4bn was new spending.
The Government's 10-point plan comprises:
A ban on combustion engine sales by 2030, with grants for electric cars, and funding for charge points. The sale of some hybrid cars and vans will continue until 2035.
A previously announced pledge to quadruple offshore wind power by 2030, to 40GW, enough to power every UK home.
Moves to boost hydrogen production, with the promise of a town heated entirely by hydrogen by the end of the decade.
Investment of £525m towards new nuclear power, based on "the next generation of small and advanced reactors".
£1bn next year for funds to insulate homes and public buildings, using the existing green homes grant and public sector decarbonisation scheme.
An extra £200m invested in carbon capture initiatives.
Support for greener energies in the aviation and maritime sectors, with £20m committed to the latter.
30,000 hectares of trees planted every year, as part of nature conservation efforts.
Moves to promote public transport, cycling and walking, although no new schemes were announced.
A pledge to make London "the global centre of green finance".
Previously, the Confederation of British Industry (CBI), claimed that the UK Government needs to undertake a 'significant programme of infrastructure investment' to enable regulators and private investment to create funding for critical net-zero infrastructure.
According to the Office for Budget Responsibility, the UK is set to suffer from a £372bn deficit in 2020-21, despite the Government's financial relief policies, the equivalent of 18% of GDP. This economic downturn resulting from the COVID-19 pandemic could hinder the required investment into national infrastructure to enable the UK to meet its net-zero target for 2050.
As a response, the CBI is calling for the Government to give regulators more control and targets to deliver the anticipated NIS, and have clear regulatory guidelines to support sectors with the net-zero transition.
The CBI has called on the Government to create an infrastructure bank, 'which could form part of a larger investment institution to support the UK's economic recovery'. This would need to be implemented soon, because the UK is approaching the end of the Brexit transition period and is set to lose access to the European Investment Bank.
CBI research, for example, shows that for every £1 spent on construction activity, £2.92 is created in wider value to the economy. However, the World Economic Forum estimates that globally a £12trn investment gap will exist regarding the infrastructure required in 2040.
Additionally, the National Infrastructure Commission has urged the UK Government to set 'clear resilience standards' that enables energy and water networks, transport, essential services and all infrastructure sectors to stress test and plan against hidden climate challenges on the horizon.
* In 2015, world leaders agreed to 17 goals for a better world by 2030. https://www.globalgoals.org/ These goals have the power to end poverty, fight inequality and stop climate change. Guided by the goals, it is now up to all of us, governments, businesses, civil society and the general public to work together to build a better future for everyone. Syntegra's work is underpinned by many of the goals.

Target 13: Climate Action:
Take urgent action to combat climate change and its impacts.
 
Target 13.2: INTEGRATE CLIMATE CHANGE MEASURES INTO POLICIES AND PLANNING
Integrate climate change measures into national policies, strategies and planning.