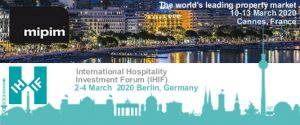 Networking at industry events is a great way to sell your brand and show stakeholders that you really mean business with your business.
And even when you're one of thousands of participants representing hundreds of diverse countries, it's a great opportunity to be seen and take your seat at the table of influencers.
With that in mind, Syntegra Group is delighted to announce MD Alan King will be heading a team of colleagues at the upcoming industry events IHIF (International Hospitality Investment Forum) in Berlin and property show MIPIM (Marché International des Professionnels d'Immobilie) in Cannes.
Alan and his colleagues are keen to meet existing and prospective clients and business partners at these events – Berlin 2-4th March and Cannes 10-13 March to discuss ventures in the property market and showcase Syntegra and BSG's expertise in the hotel sector and also the field of sustainable building design.
IHIF will see 2,500 senior figures from over 80 countries worldwide at what is described as 'the world's most influential hospitality investment event that connects the ambitious, brave, curious and disruptive that shape the world of hospitality investment – the meeting of global collaboration'.
David Thomas, Director of the Group's subsidiary hotel specialist MEP consultancy, said: 'This is a great event for us to be seen at. We have developed a great reputation for our high quality work in the international hotel sector and this is a real opportunity for us to celebrate that success and engage with others who could benefit from our skills in this area of work.'
MIPIM, described by organisers as 'the premier real estate event', gathers the most influential players from all sectors of the international property industry for four days of networking and learning.
Almost 27,000 participants are set to attend from sectors including office, retail, residential, healthcare, sport , logistics and industrial and from all levels of the commercial property value chain.
Alan and his colleagues will be proud to represent the Group and discuss best practice which we have either developed or are proud to support through our extensive programme of work at home and abroad.
He said: 'We have worked on a number of innovative projects and conduct our projects with the highest industry standards with excellent results. Our clients tell us time after time how our efforts have benefited their businesses. With that in mind, it would be great to have the chance to meet up with people keen to share in our success.'
If anyone is interested in meeting members of the Syntegra team at either of these events, please get in touch and appropriate plans can be made.